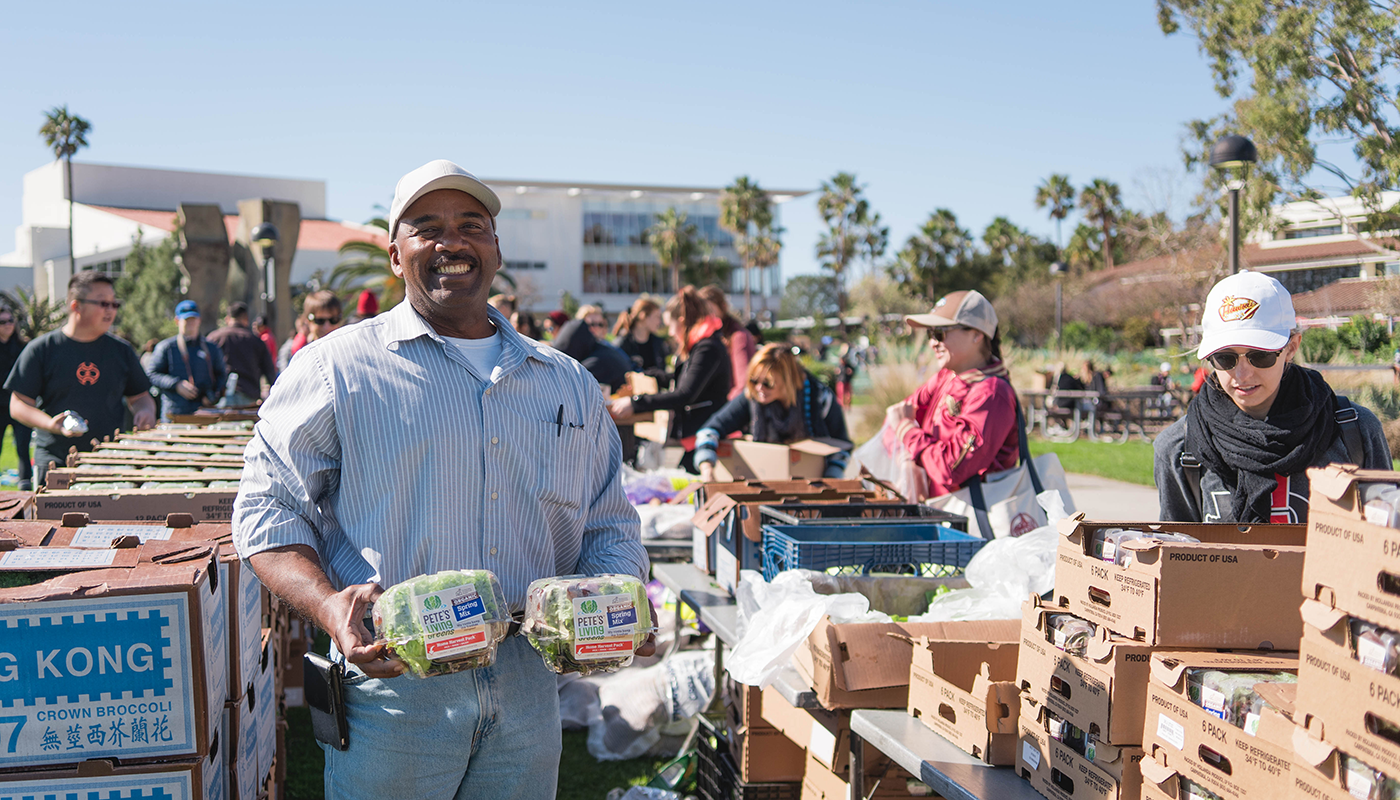 Basic Needs Programs
The Basic Needs Center is now loacted in ECC-14 (across from the Well) and houses the Food Pantry, Love's Clothing Closet, and the CalFresh Application Assistance Program.
About the Basic Needs Center
The Basic Needs Center has two locations on Main Campus the BNC is Located in ECC-14 (across from The Well) and at the Wake Center it is located in Room 22
SUMMER 23 Main Campus BNC hours are as follows:
Monday 10-4, Tuesday 10-4, Wednesday 10-4pm, Thursday 10-4, Fridays Remote Services
Wake Campus BNC is currently under construction, new hours will be posted doon!
The mission of the SBCC Basic Needs Center is to eliminate food insecurity, hunger related stressors and support students with financial hardships by providing students and community members with access to no cost quality food, clothing, toiletries, and other supplies. We strive to build awareness about food insecurity, healthy nutrition, CalFresh, financial aid, and other resources in a dignified and helpful environment.

Emergency funds assist students in meeting financial needs as a result of an unexpected event or emergency. The purpose of this funds is to assist students in extenuating circumstances stay enrolled in college and progress toward graduation,

Funds are limited and based on specific eligibility requirements. Due to the very high volume of application submission it may one to two weeks to process your request. You will be contacted as soon as possible regarding the status of your application and/or request.
The BNC works in partnership with the Food Bank of Santa Barbara and the

SB County

Food

Action Network

Higher

Education Basic Needs Impact Group

to improve

the nutritional health and food security of our campus community.

The SBCC Food Pantry is coordinated by the Office of Equity, Diversity, and Cultural Competency. For more information, or to schedule a CalFresh appointment please email basicneeds@sbcc.edu or Roxane Byrne, Coordinator of Equity, Diversity, and Cultural Competency rmbyrne@sbcc.edu
Call the BNC at (805) 730-3067
Click here for important resources for students experiencing basic needs concerns
Support the Basic Needs Program
The SBCC Food Pantry is partially f

unded by a Grant from the Department of Resources Recycling and Recovery (CalRecycle) through California Climate Investments.

The SBCC Food Pantry is also funded by the CCCCO Hunger Free Campus Initiative, the SBCC Foundation, and through generous donations from campus and community members.
Love's Clothing Closet has received generous support from the SBCC Foundation as well as campus and community donors.
If you are interested in making a monetary donation to the SBCC Basic Needs Program please click here: https://www.sbccfoundation.org/give-where-most-needed/. To ensure the gift is directed to the SBCC Food Pantry please select

Use my donation where it is needed most

from the drop-down menu and type

Basic Needs Center into the "Other Gift Instructions: section

.

If you have any questions about donating to the SBCC Basic Needs Center please contact the SBCC Foundation at (805) 730-4401

info@sbccfoundation.org

.