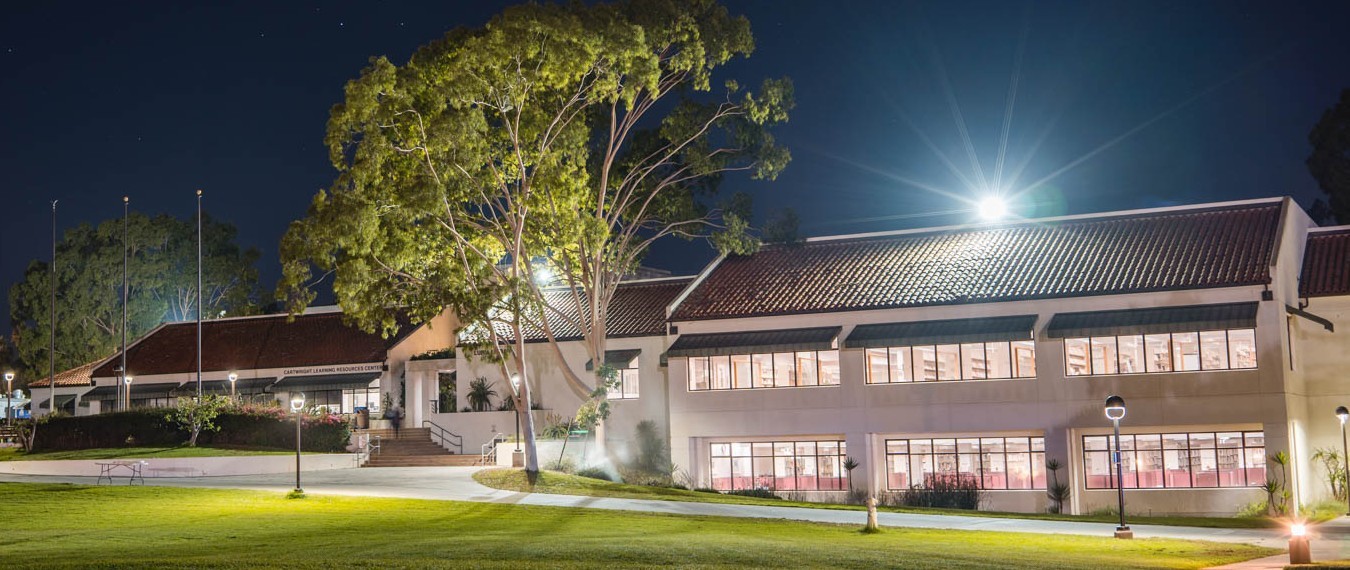 About Luria Library
Our Mission:
Embracing its slogan (Explore, Learn, Grow), the Luria Library seeks to inspire discovery by offering dynamic, innovative, and welcoming physical and virtual environments for students, staff, and faculty, and providing the resources, services, and instruction they need to achieve educational, professional, and personal growth and success.
The library does this by developing and providing collections and services to meet educational, cultural, professional and personal needs; offering student-centered instruction and ongoing interactive communication aimed at developing information literacy and critical thinking; promoting cultural and academic activities; encouraging experimentation and innovation; maintaining physical and virtual spaces that support diverse needs of students.
About the Library
The Luria Library is a vital, popular, active center of student learning on SBCC's campus. We seek to welcome and serve the community in the broadest way possible, with our staff, resources, programs, instruction, and facility.
The 37,760 square foot Library has a 35-seat classroom for library instruction, seven group-study rooms, 51 desktop computers for student use, 50 laptops available for 4-hour checkout, and there is wireless capability throughout. There are 550 seats in the library. The Library currently has over 90,000 titles, 89 print periodical subscriptions, and 8 newspaper subscriptions. This collection includes over 120,000 electronic books and subscriptions to 55 electronic databases, which provide access to at least 60,000 full-text periodicals. The greatest use of our physical library collection is in our textbook check-out program; the library purchases copies of most required course materials and offers these materials to students for short-term loans.
Instruction is central to the library program. All librarians provide instruction for courses in college departments throughout the year, using our instruction room (L-146) and other classrooms and computer labs, and provide reference help in person, by phone, or through online chat whenever the library is open.
In 2019, the Library staff consists of one library director, three full time librarians, part time librarians, and four classified staff members. Besides offering all standard library services, the library also promotes cultural and academic activities by hosting student-centered events such as poetry readings, exhibits, club meetings and activities, and by promoting departments and campus programs in displays and social media.
Luria Library History
In the early years of the College, the library was located on the lower level of what is now the Student Services Building. The Luria Library was opened in 1989, and named in honor of Eli Luria, who served on the Board of Trustees, including two terms as the Board President. He helped create the SBCC Foundation and also served on the Education Advisory Council. Mr. Luria served as co-chairman of a citizens committee which worked to acquire SBCC's West Campus, where the library is located. Along with his wife Lee and daughter Kandy Luria-Budgor, the Luria family has provided significant financial support for numerous College projects.
Friends of the Luria Library
The Friends of the Luria Library was established an Auxiliary Organization of Santa Barbara City College Foundation. This is a supporting organization interested in supporting the SBCC Luria Library. Private gifts from the Friends have built an endowment fund and provide for special and reference collections, periodicals, and other services to our community not funded in the state budget. Contributions from individuals provide an extra measure of qualitative excellence which can be seen in every area of library operation.
Over the years, the Friends funds have supported significant projects such as:
Weekend Hours
Resident Librarian
Textbook Scholarships
Technology (Netbooks and iPads)
Cafe Furniture
Friends Website Design and Production
Friends Brochure/Bookmark
Library Advertising in The Channels
Spanish Language publications
Mobile Study walls
Outdoor Signage
Furniture
Literary Salons
---